Nashville – a travel hot spot for good food, good music, and good times!  Check out our blog post below for some spots to check out during your visit! (Featured image source: HomeAway.com)
MUSIC VENUES
Nashville aka Music City is the home of country music, but did you know that the city really caters to every genre of music?  You can find a venue that suits your taste and best yet, there's something going on every day of the week. The coolest part about the city is that you could be in a venue and your favorite artist might show up and perform a show on a whim. That's just how Nashville is.  Here are some of our favorite spots.
Broadway
No visit to Nashville would be complete without a stroll down Broadway. The street is lined with bar after bar and is full of live cover bands. Florida Georgia Line owns a bar, Dierks Bentley has the highest rooftop bar on the street, and Blake Shelton will be opening a bar soon. Come for the drinks, hit songs, and dancing!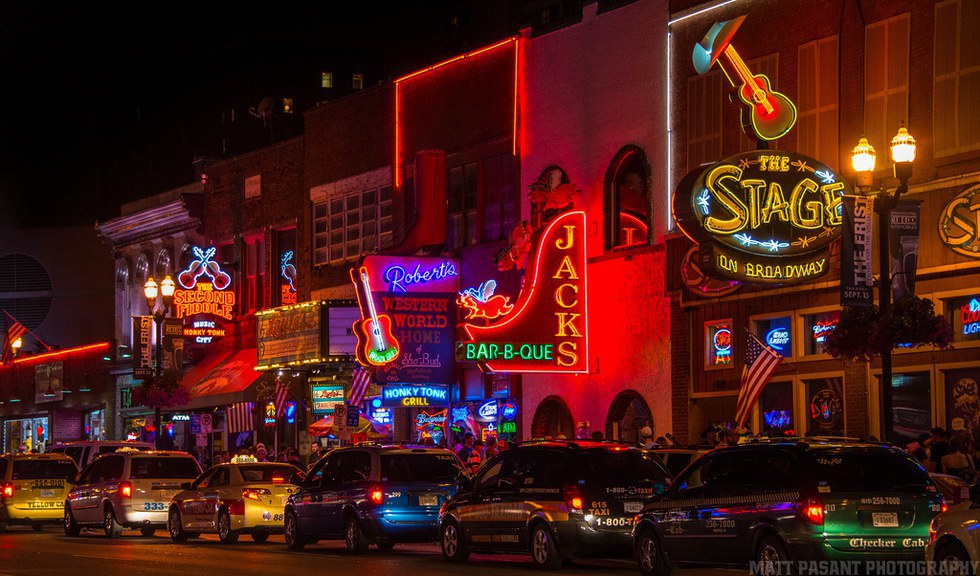 The Ryman
If you want to experience country music history, you must visit a show at the Ryman. The venue dates back to the 1800s and was once a church and houses the Grand Ole Opry. There isn't a bad seat in the house.
The Bluebird Cafe
Made famous by "Nashville" the TV show that's wrapping up its final season this year, this small venue is known for its singer/songwriter rounds. Come for the intimate performances from famous songwriters behind hit songs that you've heard on the radio. They'll tell you the stories behind the songs, and there's just nothing like it. Make sure you reserve your tickets well in advance, otherwise there's a standby line. Most recently, Taylor Swift showed up to perform and surprised an audience.
Source: Blue Bird Cafe
Winners Bar
Home to Whiskey Jam every Monday and Thursday, this casual concert is a blast. It features a lineup of great musicians who play three songs each and can be a mix of up-and-coming artists as well as well-known artists. No matter what the lineup, they're always great, and it's always a blast and a lively crowd. Even better, it's free! 21+
Tin Roof
Located near Music Row, Tin Roof is a favorite among Vanderbilt Students. It's also a favorite among the musicians who live in the area, so don't be surprised if some of your favorite artists pop up on a random weekday to perform!
Exit/In
For anyone who wants to go far far away from anything and all things country music, this is your spot. Exit/In is the place for fans of punk, metal, rappers, DJs, and the like. The artists who perform here don't fit in with the typical Nashville status quo.
FOOD
With all that talk about music, let's get to some delicious dining options to fuel your night out. Nashville is a foodie's paradise! Home to hot chicken, meat and 3, and good ol' southern eats, you'll leave with a full belly and a smile on your face. Without further ado, here's your guide to the best spots.
Prince's
Hot Chicken has its' roots in Nashville. The story goes that Thornton Prince was caught cheating on his lady and when she found out, she wanted to punish him, so when he came home, she gave him fried chicken smothered in pepper. There was one problem – Thornton Prince loved the chicken. He loved it so much that he shared it with his friends, and hot chicken was born. He opened up a shop and Prince's has been open ever since. Be ready to wait at least 45 minutes as the chicken is fried on a skillet, but it's worth it.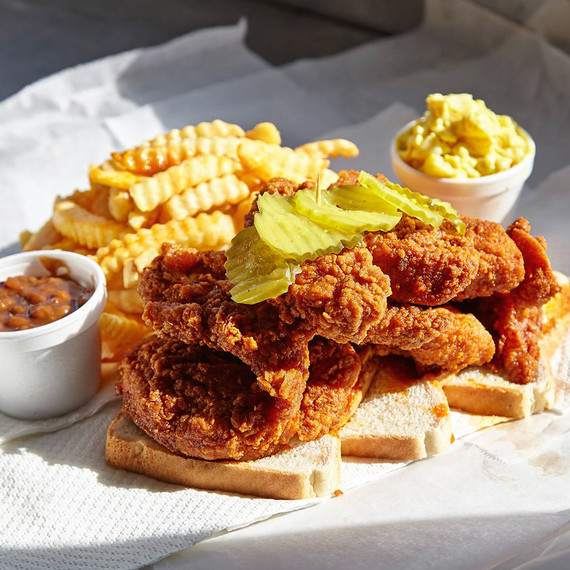 Source: Prince's Hot Chicken/Martha Stewart
Hattie B's
Another hot chicken spot that's also delicious, but don't skip dessert because their banana pudding is amazing! Pro tip: Be sure to go to the Berry Hill location as the one near Vanderbilt always has a line.
Source: SeriousEats.com
Monell's
If you want to feel as if you've been invited to a home-cooked meal, go to Monell's. You're seated a table with strangers, if you get a phone call, you have to get up and take it away from the table, and the food is served family style. The best part is the food keeps coming and coming until everyone is full. The meal builds community, it's classic southern cuisine, and it's all so so good!
Source: Postmates.com
Fido
A popular cafe for Vanderbilt students and Nashville locals, it's a great spot for coffee aficionados and anyone looking for a casual dining option in the Hillsboro neighborhood.
Husk
A home that's been transformed into a upscale restaurant, Husk delivers southern food with flair and flavors you might not expect. A true dining experience that we highly recommend for anyone who wants an upscale event while in town.