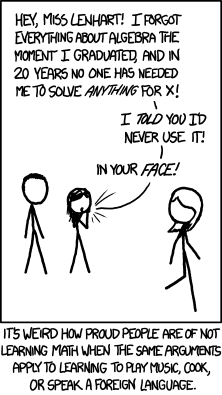 This post was too funny to not write about! One of the most common arguments (or discussions) we've heard again and again is that years from now you likely won't remember most of what your professors taught you, but you will remember the memories you had with friends, fraternity brothers, and sorority sisters.
So whan it comes to isoteric courses, what are the takeaways you'll get from them? Will algabra, trigonometry or discreet mathematics be that useful to you if you don't go into accounting, banking, or engineering?
For those who do need to brush up on skills, either for your job, a professional test, or a graduate school test, we'd recommend these two web sites, Khan Academy and Coursera (Coursera recently launched).  Both are free resources that allow you to learn at your own pace.
https://www.coursera.org
http://www.khanacademy.org
Let us know how you like it.  For a preview of Khan Academy videos, check out one of the videos from Khan Academy below.